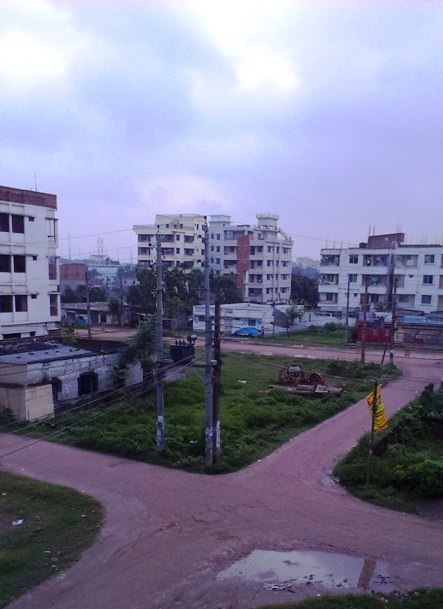 So I wanted to keep it in record. I have experimented many things but never a challenge like this one. One of the reason maybe the concept isn't that much familiar among people here. But I see them doing it all the time, specially people trying to quit smoke. Well I am definitely not trying to quit smoke right now but I would love to try sometime later, at least for some time and save some life. So what I am doing now? As evident as it is, I am not quite happy with my life right now. It's more complex to explain and I am not going to bother explaining whats the problem is. The thing is there are problems I want to get rid of. So I just decided to do things, kind of detoxing of soul, you can say. So first day wasn't as good as expected but at least some progress has been made, in spite of the fact that it started disastrously.
This was my Facebook status yesterday announcing the journey: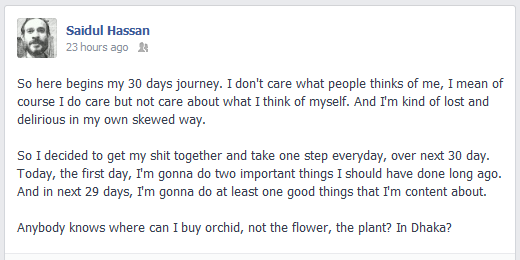 Day Two: Well, considering the Day 1, today started quite well. Woke up timely for my Fazr prayer, made some tea while watching the calm and serene view from the window. Street became no soul to rushing office goers and dads taking kids to school kinds of beautiful pictures. Most importantly I am looking real good toward the day. Have I done anything good yet, nope. Would I? Sure as hell! Going to my office and do my work there after almost three months… at least I look at it as my good deed. Sep 02, 2013 8:05 am
The following two tabs change content below.
COO at Up Arrow Consulting, MCC manager, & Technical SEO consultant. Certified Google Partners and Microsoft Bing Ads Accredited Professional, Python enthusiast, wannabe SysAdmin. Graduated from School of Management & Business Administration (SOMBA),
Khulna University
.
Latest posts by Saidul Hassan (see all)